Abbas Khider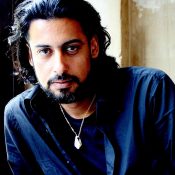 .
Abbas Khi­der è nato a Bag­dad nel 1973. Nel 1990, a cau­sa di moti­vi poli­ti­ci, è sta­to arre­sta­to e dete­nu­to due anni nel­le car­ce­ri ira­che­ne, nel 1996 ha lascia­to il pae­se. Tra il 1996 e il 1999 è pas­sa­to clan­de­sti­na­men­te per vari pae­si euro­pei in cer­ca di rifu­gio, sta­bi­len­do­si defi­ni­ti­va­men­te in Ger­ma­nia nel 2000. Khider ha stu­dia­to Filo­so­fia e let­te­ra­tu­ra a Mona­co e Potsdam, attual­men­te vive a Ber­li­no. Ha vin­to nume­ro­si pre­mi di poe­sia e let­te­ra­tu­ra, tra gli altri il pre­mio Adel­bert von Cha­mis­so Pri­ze per il gio­va­ne auto­re più pro­met­ten­te nel 2010 e i pre­mi Hil­de Domin Pri­ze e Nel­ly Sachs Pri­ze nel 2013.
Abbas Khi­der was born in 1973 in Bagh­dad. In the 1990s he was impri­so­ned for two years for poli­ti­cal rea­sons, and fled the coun­try in 1996. Bet­ween 1996 and 1999 he sought refu­ge ille­gal­ly in seve­ral coun­tries, final­ly set­tling in Ger­ma­ny in 2000. Khider stu­died Phi­lo­so­phy and Lite­ra­tu­re in Munich and Potsdam, and cur­ren­tly lives in Ber­lin. He has won nume­rous pri­zes for his poe­try and pro­se, inclu­ding the Adel­bert von Cha­mis­so Pri­ze for the Most Pro­mi­sing Young Wri­ter, 2010, and in 2013 the Hil­de Domin Pri­ze and Nel­ly Sachs Prize.
Abbas Khi­der wur­de 1973 in Bag­dad gebo­ren. Mit 19 Jah­ren wur­de er wegen sei­ner poli­ti­schen Akti­vi­tä­ten verhaf­tet. Nach der Entlas­sung floh er 1996 aus dem Irak und hielt sich als »ille­ga­ler« Flü­ch­tling in ver­schie­de­nen Län­dern auf. Seit 2000 lebt er in Deu­tschland und stu­dier­te Lite­ra­tur und Phi­lo­so­phie in Mün­chen und Potsdam. 2008 erschien sein Debü­tro­man Der fal­sche Inder in der Edi­tion Nau­ti­lus, es folg­ten die Roma­ne Die Oran­gen des Prä­si­den­ten (2011) und Brief in die Auber­gi­nen­re­pu­blik (2013). Er erhielt ver­schie­de­ne Auszeich­nun­gen, zule­tzt wur­de er mit dem Nel­ly-Sachs-Pre­is, sowie dem Hil­de-Domin-Pre­is geehrt. Im Frü­h­jahr 2016 erscheint sein neuer Roman Ohr­fei­ge beim Han­ser Ver­lag. Abbas Khi­der lebt zur­zeit in Berlin.
Visualizzazione del risultato