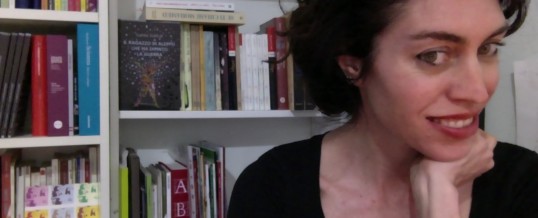 The Heroine's Journey of Chiarastella Campanelli
What is the best thing that I love about my work?
Invent pro­jec­ts I belie­ve in and be able to rea­li­ze them
What is my idea of per­fect hap­pi­ness?
Living in the pre­sent rejoi­cing each instant without thin­king of the moment after
What is my grea­te­st fear?
Stop drea­ming
What is the trait that I most deplo­re in myself?
Don't belie­ve enou­gh in myself
Which living per­sons in my pro­fes­sion do I most admi­re?
I appre­cia­te various peo­ple for the strength and the pas­sion they put into their work such as Saphia Azzed­di­ne, the author we have just publi­shed, in per­fect balan­ce in her art and in its rea­li­za­tion as a woman.
What is my grea­te­st extra­va­gan­ce?
Take the time off and relax
On what occa­sion would I lie?
If it is neces­sa­ry to keep calm tho­se around me
What is the thing that I disli­ke the most in my work?
The human fac­tor when orga­ni­zing even­ts and authors deny their pre­sen­ce.
When and whe­re was I the hap­pie­st, in my work?
In my offi­ce last year when we found out to have been selec­ted by the Euro­pean Union for the lite­ra­ry trans­la­tion pro­ject, and I was the one who crea­ted the pro­ject.
If I could, what would I chan­ge about myself?
Mood swings
What is my grea­te­st achie­ve­ment in work?
Mana­ged throu­gh my work to influen­ce the publi­shing pano­ra­ma of my coun­try with our publi­ca­tions.
Whe­re would I most like to live?
Hap­py with my fami­ly in any pla­ce
What is my most trea­su­red pos­ses­sion?
The abi­li­ty to dream, to have pas­sion, to find the beau­ty in eve­ry­thing, plan and be skil­led in public rela­tions.
What is my most mar­ked cha­rac­te­ri­stic?
Being a lit­tle naïf and genui­ne
What is my most inspi­ra­tio­nal loca­tion, in my city?
The sights like the gar­den of oran­ge trees or clim­bing on the many church towers and see my city from abo­ve. Rome is the Eter­nal City, but the inspi­ra­tion is always within us.
What is my favou­ri­te pla­ce to eat and drink, in my city?
La Madia a small bar in the Tor­ri­no area (Rome)
What books influen­ced my life and how?
"La coscien­za di Zeno" that I read when I was 16; it made me rea­li­ze that it is human to have wea­k­nes­ses.
Who are my favo­ri­te wri­ters?
Ita­lo Sve­vo, Pier Pao­lo Paso­li­ni, Orhan Pamuk, Susan Vree­land.
Who is my hero or heroi­ne in fic­tion?
Mar­cel­lo Mastro­ian­ni
Who are my heroes and heroi­nes in real life?
Peo­ple who have ener­gy and know how to tran­smit it.
Which movie would I recom­mend to see once in a life­ti­me?
"Bla­de Run­ner" and "8 e ½"
What role plays art in my life and work?
Art is the focus of my life.
Who is my grea­te­st fan, spon­sor, part­ner in cri­me?
Festi­vals and Book Fairs.
Whom would I like to work with in 2017?
San­ta Mad­da­le­na Foun­da­tion and some forei­gn publi­shers for chil­dren who deve­lop cer­tain issues rela­ted to fai­ry tale and art.
Which peo­ple in my pro­fes­sion would I love to meet in 2017?
All our authors
What pro­ject, in 2017, am I loo­king for­ward to work on?
Start to open the way for new publi­shing pro­jec­ts. Open our cata­lo­gue to publi­ca­tions for chil­dren with a 'Wal­dorf line', to dream and bring to life the most remo­te part of the soul.
Whe­re can you see me or my work in 2017?
Medi­ter­ra­neo Down­to­wn Festi­val (Firen­ze, Pra­to 5–7 May) Salo­ne del Libro di Tori­no (Tori­no, 18–21 May) Festi­val Nues (Caglia­ri, Novem­ber 2) Più Libri Più Libe­ri (Decem­ber, Rome).
What do the words "Pas­sion Never Reti­res" mean to me?
The pas­sion is the base that sup­ports ideas.
Which crea­ti­ve heroi­nes should Peter invi­te to tell their sto­ry?
The wri­ter Sel­ma Dab­ba­gh in publi­ca­tion for our publi­sher for Sep­tem­ber 2017 (il Siren­te / Altria­ra­bi Migran­te series)